If I Stay


Nationwide - Covers a grim subject in a way that still manages to be uplifting while not talking down to its audience. "If I Stay" overcomes its more hackneyed embellishments and mawkish dialogue for a sensitively composed tale where themes of sacrifice, understanding and courage ring identifiably, piercingly true.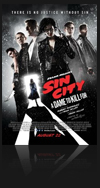 Sin City: A Dame To Kill For

Nationwide - This distaff continuation—a combined sequel and prequel—is spotty and slipshod, an unsteady, mostly vacuous excursion that not only shines a light on how much better "Sin City" did it, but virtually erases from memory with each passing scene.

Boyhood

Select Cities - It is nothing short of stunning to watch "Boyhood" unfold. Richard Linklater's magnum opus offers more than what one has any right to expect from a film while simultaneously illuminating the incalculably infinite boundaries to which cinema is capable of going.

Life After Beth

Select Cities - Cloaking tragedy in a veil of resonant humor without compromising the truth of its thematic eulogy to love and loss, the film runs the gamut of emotions. It's droll. It's mournful. It's adorable, and surreal, and eerily burrows its way under the viewer's skin.

New from TheBluFile:

The Latest Blu-Ray Reviews
New reviews include: "Leviathan," "The Sacrament," "The Quiet Ones," "Toy Story of Terror!," "Bedknobs and Broomsticks," "Mickey, Donald, Goofy: The Three Musketeers," "Hercules (1997)," "Tarzan (1999)," "I'll Follow You Down," "The Adventures of Ichabod and Mr. Toad/Fun & Fancy Free," "Bears," "Motel Hell," "Muppets Most Wanted" and "Locke."
Published Theatrical Reviews:
2,670

Dustin & his movie review
website were named a
"Hot Site" by USA Today!
This website is dedicated to the memory of Rhudel Putman II.