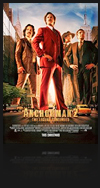 Anchorman 2:
The Legend Continues

Nationwide - As much as the fervent "Anchorman" supporters might have wanted a sequel, the redundant "Anchorman 2: The Legend Continues" sees to it that Ron Burgundy is kind of no longer a big deal.

The Hobbit:
The Desolation of Smaug

Nationwide - Were it not for its typically first-class production values, this lugubrious trilogy could easily be confused as the cinematic equivalent of derivative, threadbare fan-fiction from someone who's seen Jackson's own "The Lord of the Rings" series too many times.

A Madea Christmas

Nationwide - A hackneyed story that spoon-feeds its messages to the viewer while devising just-plain-wrong set-pieces involving a run-in with the Ku Klux Klan and the crucifixion of a bratty little white girl. Christmas spirit is in short supply in "A Madea Christmas" until the last five minutes, and even then it's as incessantly manufactured and artificially flavored as a Hostess Twinkie.
Related Retro-Reviews Recently Added
Saving Mr. Banks

Select Cities - A respectful glimpse into the complicated but virtuous person P.L. Travers was, as a woman and an artist. She may have been hard to please, but she likely would have approved of this warmly felt biopic.

New on DustinPutman.com:

Featured Blu-ray Releases
The latest additions to this new section of the site include: "The Lone Ranger," "Mary Poppins," "Galactic Adventures: 3D Sun/Mars 3D," "Despicable Me 2," "Saturn 3," "Paradise," "Mickey's Christmas Carol" and "Winnie the Pooh: A Very Merry Pooh Year."
Published Reviews:
2,512

Dustin & his movie review
website were named a
"Hot Site" by USA Today!
This website is dedicated to the memory of Rhudel Putman II.