Boyhood

Select Cities - It is nothing short of stunning to watch "Boyhood" unfold. Richard Linklater's magnum opus offers more than what one has any right to expect from a film while simultaneously illuminating the incalculably infinite boundaries to which cinema is capable of going.

Planes: Fire & Rescue


Nationwide - Gloriously animated with a preference for woodsy, mountainous landscapes (just make sure it is seen in the 2D format where the colors shine their brightest), "Planes: Fire & Rescue" outdoes itself when stacked next to the underwhelming "Planes." The extra care doesn't lift the picture to a level of greatness, per se, but it does make it worth seeing.

The Purge: Anarchy


Nationwide - A fitting companion piece that doesn't simply repeat the formula of its predecessor. "The Purge" and now "The Purge: Anarchy" are worthy of discussion and debate, both of them socially conscious, politically loaded allegories that just so happen to also pass for genre fare.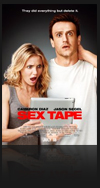 Sex Tape

Nationwide - There are a handful of solid laughs sprinkled throughout, but the assumption is that bigger and better jokes are yet to come. They never do. "Sex Tape" is a sporadically diverting but unimaginatively plotted comedy, neither as funny nor dramatically affecting as it wants to be.

Killer Legends

Now Available On Demand; on DVD July 15 - Tailor-made for true-crime enthusiasts and folklore buffs. "Killer Legends" is an eerie, insanely watchable documentary with the entertaining Joshua Zeman and Rachel Mills acting as tour guides to the birthplaces of sobering, unthinkable crimes and the urban legends inspired by them.

Life Itself

VOD & Select Cities - Flawlessly, heartbreakingly captures the transcendence of one's ever fleeting existence. Roger Ebert may no longer be here, but his impact and legacy will endure. For someone who loved movies as much as he did, he would be pleased to find that "Life Itself" is one of the year's very best.

Snowpiercer

Select Cities - A rich, ravishing experience, a motion picture dripping in social consciousness and thematic intricacy without becoming preachy or losing sight of its other purpose as a rousing, robust entertainment. "Snowpiercer" excites, intimidates and astounds.

New on DustinPutman.com:

Featured Blu-ray Releases
The latest Blu-ray reviews include: "Curtains," "All Cheerleaders Die," "The Angriest Man in Brooklyn," "Under the Skin," "SX_Tape," "Lake Placid," "Stage Fright," "Rigor Mortis," "The Final Terror" and "Wolf Creek 2."
Published Theatrical Reviews:
2,670

Dustin & his movie review
website were named a
"Hot Site" by USA Today!
This website is dedicated to the memory of Rhudel Putman II.